Kari Jobe's 'The Blessing' Goes Gold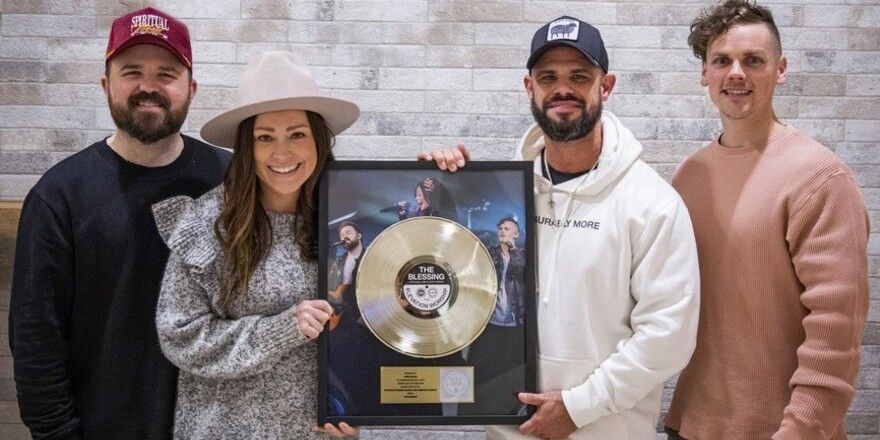 NASHVILLE, TENN. -- Last year, Kari Jobe, Cody Carnes and Elevation Worship gathered and co-wrote the song, "The Blessing," which quickly became a viral hit song around the world just days after recording and releasing it. Less than a year after the live video was released, it has more than 44.4 million views on YouTube, and the song has recently received RIAA Gold Digital Single certification. This global worship anthem of 2020 is also nominated for Best Contemporary Christian Music Performance/Song at the 63rd annual GRAMMY® Awards.
A Gold certification comes from more than 500,000 copies of the song being downloaded or otherwise purchased.
RELATED: Kari Jobe Announces "The Blessing" Live Album
"This song is very special," shares Kari Jobe. "I think my favorite thing about the song is hearing my babies sing it around the house. It brings great peace knowing that the very words God said to pray as a blessing still have 100% power today. God is kind and good. I pray this song continues to break through the noise and give a tangible sense of His presence every time it's played or sung."
"It's the honor of a lifetime to be a part of the journey of this song - from the moment it was written to seeing it impact almost every nation and language across the world in just a few short months," explains Cody Carnes of the song's global impact. "I've been so encouraged by it in this challenging season of life. Not only by the truth from the scriptures in this song, but also by watching what God can do to bring encouragement and comfort to His people in a season of overwhelming fear and tragedy."
"The Blessing" was featured on both Kari Jobe's latest record The Blessing (Live) and Elevation Worship's record Graves Into Gardens.